LEADING THE HOME
Choosing Leadership for 2017-2018 at SPL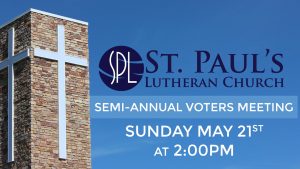 This Sunday, May 21st at 2:00pm, our membership will gather in the Dining Room at SPL for our Semi-Annual Voters Meeting. We will have the opportunity to hear from our Pastoral Team, our Board of Elders, Ministry Leaders, and Building Committee about important congregational updates. We will also take the time to consider and vote for a slate of new leadership for our Board of Elders for 2017-2018 at SPL.
Lead by Malcolm Head, the Nominating Committee has worked over the course of the past month to seek leadership nominations and develop an appropriate slate of candidates. The committee included members Malcolm Head, David Horn, Tom Klebe, Jonathan Offermann, and Jeff Entler. The task before the committee was to determine nominees for one Chairman-Elect position and three available Elder At Large positions.
Greg Florian, David Minick, and Steve Zarndt each complete their terms of service at the end of June 2017. Current Chairman-Elect, Craig Willis, will move to the Chairman position for 2017-2018 and complete a one year term in that role. Larry Oestreich and Michael Peer will complete one more year of their current two year terms as Elder at Large for 2017-2018. We are most thankful for the personal sacrifice, leadership, and service of these men in our church family.
The Nominating Committee has just determined the appropriate amount of qualified nominees and are now presenting these candidates as those who will "lead the home" on our SPL Board of Elders for the 2017-2018 term. Before you vote, take a moment to "meet" those who could become the next leaders among us.
You can view information about all of the candidates HERE