SPL Kids Junior Leadership Program for 5th/6th Graders
This fall, we are launching a special Junior Leadership Program for students in 5th and 6th grade. Beginning August 26th and 27th our SPL Kids Time offerings during both the Saturday (6:00pm) and the Sunday (10:30am) contemporary services will be as follows:
6 weeks old – 3 years: Nursery
3 years – Kindergarten: Room 206
1st-4th grade: Great Room
Instead of attending SPL Kids Time during the worship service as a participant, your 5th or 6th grade student will have the opportunity to serve in one of the above-mentioned SPL Kids Time rooms. Students must be enrolled in the program and meet the requirements to serve during SPL Kids Time.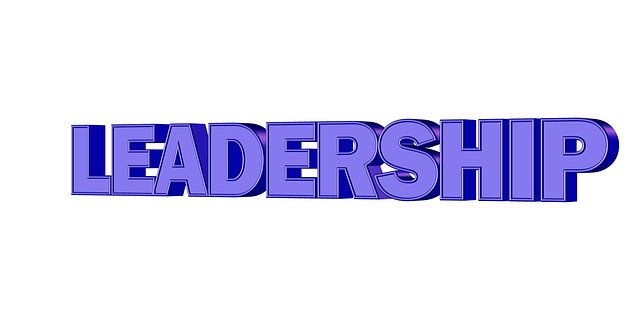 For pre-teens (or tweens), this is an ideal time to start getting connected to the larger body of believers through acts of service which correspond to God-given gifts and capacities. Children and teens who engage in meaningful acts of service within their church body are more likely to continue to be actively involved in the life of the church throughout their lives.
Additional Benefits:
T-shirt & Lanyard
Tools to help with their spiritual development (such a Bible, prayer journal, devotional, etc.)
Pizza/Ice cream parties, etc.
Fellowship opportunities
A chance to discover your spiritual gifts through spiritual gift questionnaire and mentoring discussions
Meet quarterly with an adult faith mentor
And more!
Requirements:
Complete a Junior Leadership Program application
Be in at least 5th grade
Attend a training annually (see dates below)
Meet one-on-one with adult mentor quarterly (must meet once prior to beginning to serve)
Stay in worship once a month and take sermon notes
Commit to a plan for spiritual formation (including Bible reading and prayer)
Be a help and not a hindrance while serving
Follow through on commitments to serve (communicating absences, etc.)
Trainings (Additional dates will be distributed in October)
Saturday, August 12th: 4:00-5:30pm
Sunday, August 13th: 12:00-1:30pm
Thursday, August 17th: 5:30-7:00pm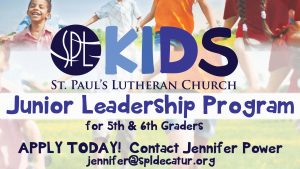 If you are a fifth or sixth grader interested in this program and you are able to attend a training session, please email me (jennifer@spldecatur.org) and I will get an application to you. Please also be sure to bring a list of available serving dates from the end of August through the end of October as is requested in the application. Pizza will be provided at the training sessions.
Please feel free to contact me with any questions!
In His Love & Service,
Jennifer Power
Director of Children's Ministry
Save