BE A PART OF OUR FAMILY ALBUM – October 3 & 4
Are you new to SPL within the last year? Did you miss the opportunity to be photographed last fall?
Thinking about the holiday season and looking to refresh your own family photo?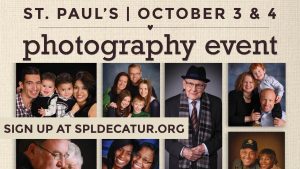 We want to have all those in our family of faith well represented in the next update of our church's Community Connect book. Be a part of our "family album" and participate in our directory photography with Lifetouch on October 3th & October 4th at SPL (times available from 2:00-9:00pm). You'll receive a free 8×10 print just for participating.
Have you moved or made any other changes within your family or household? Help us update our files before we print our new books by stopping by our table in the Fellowship Area and completing an update form, or by contacting the Church Office at 217-423-6955. We'd like to be sure we have everything in our records correct and up to date.
Photo session sign-up is available during the weekend in our Fellowship Area or online at SPLDECATUR.ORG.