FAMILY SERVING FAMILY – FALL FESTIVAL 500 at SPL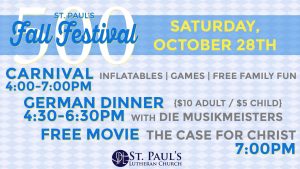 We are looking ahead with great excitement, as we have the opportunity to welcome friends and neighbors in our community to celebrate Fall and the 500th anniversary of the Reformation at our Fall Festival 500 on Saturday, October 28th beginning at 4:00pm.
We need YOU to be a part of making this time of family connection a great success!
Helpers are needed for several teams that are part of the Fall Festival, including Carnival, General Store (Game Prize Station), Concessions, Kitchen/Serving, Welcome/Parking, etc. There are additional opportunities to help with setup, decoration, food preparation, and cleanup.
Sign up to #DigIN and SERVE WITH US by completing the form below or stopping by the Fall Festival 500 table in the Fellowship Area at SPL.