SHiNe Children's Ministry
Vision for SHiNe
Creating disciples through the building up of families and the equipping of children to grow in Christ throughout their lives through study, worship, serving, the building of supportive community, and through other spiritual disciplines following the example of Jesus Christ.
Nothing is more precious than the gift our our children. Their unconditional love and trust are remarkable. Jesus reminds us, "the kingdom of heaven belongs to such as these". Here is a list of the programs, classes, and other venues specifically designed with that in mind.
---
SHiNe Children's Education Time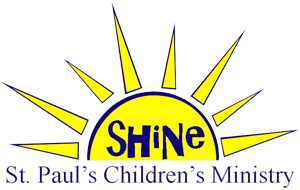 Our children's ministry area is located on the second floor. It is a playful learning environment in which children have the opportunity to explore, create, sing, and discover God's great love for them. All children from ages 3 years old through 6th grade are welcome to attend the education classes that are designed just for their age level! Most classes meet in the Children's Ministry area (second floor) or as designated.
---
Times
Saturday Evenings
6:15pm (released for education time during worship – 3 years through 6th grade)
Sunday Mornings
9:20am – 10:20am (during education time – PreK & Kindergarten meet in 206, 1st-4th Grade begins in 203, 5th & 6th Grade meet in Room 113, 1st Floor)
Wednesday Evenings
6:30pm – 7:30pm (during Fall/Winter/Spring F3 – Offerings for ages 3 years through 4th grade and a 5th & 6th Grade class)
---
F3 for Children
F3 is our Family-Faith-Formation time that meets Wednesdays during designated sessions. All children, ages 3 years to 4th grade, will be taught through large group and small group learning, using current curriculum, in our children's ministry area (2nd floor). Grades 5 & 6 meet in their own class, designed just for their age group.
Our safe, loving and nurturing Nursery is also available for children ages 6 weeks to 3 years old for any parents who may need this service. This group is also exposed to learning through play and singing.
---
St. Paul's Early Learning Center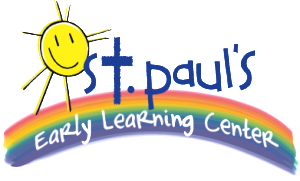 The purpose of St. Paul's Early Learning Center is to serve families of the church and community who desire a Christ-centered care and learning experience for children ages 6 weeks – 12 years. The Early Learning Center features daily care options for ages 6 weeks – 5 years (Monday-Friday, 6:30am-5:30pm), preschool classes (ages 3 and 4), and a before/after school and days out program for school-aged youth.
We are blessed to note that among our qualified and caring teaching staff, there is a total of 88 years of teaching experience among them at our Early Learning Center alone (not counting the other years of experience they had prior to coming to the ELC). Five of our teachers have been with the ELC for five years each and three of our teachers have been with the ELC for over ten years each. We value our teaching staff and their dedication, and they are passionate about providing this Christ-centered care day after day for your child.
St. Paul's Early Learning Center is located at 1 Bachrach Court (corner of West Mound Road and Taylor Avenue), within St. Paul's Lutheran Church.
Contact the Early Learning Center for more information about classroom availability, preschool or school-aged programs, or schedule a tour today at 217-424-9183.
Find out more
---
Lutheran School Association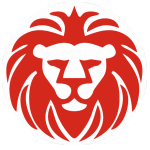 St. Paul's Lutheran Church is one of five member churches forming the Lutheran School Association (St. Paul's, St. John's, Trinity, Concordia, and Mt. Calvary) and a proud supporter of the school as an extension of our ministry. The school was organized in 1959. In addition to Kindergarten – 8th grade, the LSA established a High School in the fall of 2000. Families have access to a Christian-centered education for their students in Kindergarten through 12th grade right here in Decatur.
Find out more
---